Rester c'est exister mais voyager c'est vivre. C'est très vrai! Toutefois, l'argent est très important pour votre voyage. (To stay is to exist, but to travel is to live. This is true! However, money is very important for your travel.) I've listed some tips down below that can help cut your exchange's cost down to half. The most important thing is to get started early and not be afraid of rejection, since in between a hundred 'No' replies you might just get an enthusiastic 'Yes'.
1. Scholarships & Sponsors
If you're under the age of 15 and/or are not planning to get a job to make stack before your exchange, I would highly recommend seeking out sponsors and finding out whether your exchange program offers scholarships since they can really help bring the cost of your exchange down. Most exchange programs should have a 'needs-based scholarship' where you'll need to fill out an application, complete an interview and if you're deemed worthy, you could be the next person to receive a $3000 scholarship! (Based on my experience from NZIIU) However, if you would like to receive a scholarship with a higher amount, you should go after the competitive scholarships since they will usually fetch you at least $4000- $6000. One way to do this is to take part in the Language Perfect World Championship and earn at least a Gold award, which will make you eligible to enter your application to win a $5000 scholarship offered by NZIIU 🙂
As for sponsors, the main tip is to approach local businesses and telling them who you are and why they should sponsor you. If you want to reach a broader spectrum of businesses, I would suggest writing up a draft letter and then changing it up a bit before you send it to different businesses.
2.  Fundraising pack
This is the second most important step while fundraising for an exchange, especially if you want to fundraise by door-to-door knocking, raffles or street collections. You can usually request a fundraising kit from your chosen program, and how it works is that you have to pay them a deposit of a sum of money and after you reach all their terms and conditions, they'll give you back that money. NZIIU, my chosen program, gave me the following items to fundraise: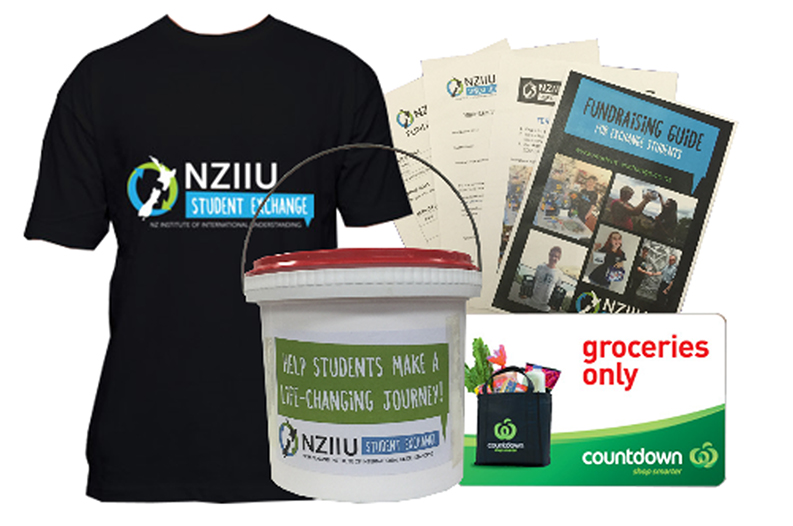 A fundraising kit will help you look more legit and will encourage people to donate more since they'll know for sure that you're a part of a student exchange.
3. Promote your fundraising EVERYWHERE
I've always found asking people for their money the most daunting part of fundraising. I mean in between 'what if I run into somebody that I know?' and 'what if they say NO?!' there are admittedly a  lot of things that could go wrong while fundraising but the most important thing is to get over that mindset and be confident. Also, remember to spread the word about how you're fundraising and trust me- people are more supportive than you think. To make sure your fundraising campaign is a success, you need to be THAT person and post about it on social media, create websites, distribute posters and even download apps such as 'Neighborly' and 'Give a little.'
4. Garage sales
Garage sales are a really effective way of making some money and getting rid of stuff that you don't need. However, they're not as easy to organize as one may think. First of all, make sure that you plan ahead and set the date on a day where you know people will have time to drop by and have a look at your items. Then, you need to organize your garage and label everything you're planning to sell because this will make it easier for you on the day. Finally, print out posters and spread the word about your garage sale. Also, please remember to have a responsible adult with you to help you since there will be a lot of strangers coming to your house and your safety should always be the first priority 🙂
5. Door to door knocking
If you live in a friendly neighborhood and are comfortable talking to people, door to door knocking is a great opportunity for you! Just use the tub in your fundraising pack and tell people what you're fundraising for and if they would be willing to donate some money. With this type of fundraising, you need to be patient and make sure you respect people if they don't feel like donating money that day. Also, you aren't just restricted to your neighborhood, you can drive to places and door knock there too, just make sure you tell your parents where you're going and don't cause too much of a disruption. Knocking may not fetch a lot of money at once, but after a while, you'll realize that every small amount adds up to something and before you know it, you will have enough money to at least pay for a months worth of pocket money in your chosen country.
7. Run raffles and sausage sizzles
Raffles and sausage sizzles definitely put the fun in fundraising and can help you make a lot of money if executed correctly. With sausage sizzles, you can book one outside of Bunnings ( but you need to do this 6 months in advance) or you can book a stall at the local fair. However, you will the need help of at least 2 other people to help you run your sizzle so be prepared for that! Also, make sure you have enough supplies to last you the whole day, and this goes without saying but preparation is key so try to have a set plan and that way you'll reach your goal faster rather than just eyeballing everything as you go.
6. Get a job
If you're over the age of 16, I would highly recommend getting a job since it is one of the most secure ways of knowing that you have an income source that will help you fund your exchange. However, even if you're not over 16 don't use that as an excuse to not take some initiative! You could still go around your neighborhood and ask if anybody needs some help doing odd jobs and make some cash while doing them.
8. Save up your money
This one is a no-brainer. If you want to make sure you have enough money to have an extraordinary exchange, make sure you're being responsible with your money. If you're somebody who has trouble saving up your money then set up a savings fund where you put deposit your savings(duh!) and then everytime you take some money out of it, you have to promise your self to put double the amount of money in it the next day.
Hopefully, the steps listed above help you with your exchange and made it a little easier to help you fundraise. Just remember, if it were easy, everybody would do it but if you want to be extraordinary, you'll always need to go that extra mile! Just remember to be friendly and don't take some of the rejections you'll face while fundraising to heart 🙂
Next week, I'll upload a blog about how to prepare for your exchange interview and some helpful tips for filling out an exchange application. Make sure you follow me so that you never miss a blog update from me and don't forget to like and leave a comment down below! Thank you for reading and supporting me! 🙂